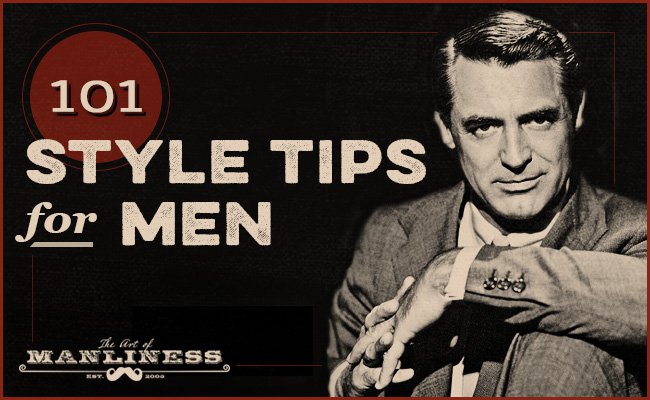 It can seem like there's a lot to know about good style, and there is, at least if you want to be enrolled in its master class. But looking sharper than 99% of other guys is actually fairly simple and merely requires knowing and doing little stuff right. The kind of stuff that can be encapsulated into short, easy-to-remember principles and adages.
Below you'll find the best of the best of such tips: a hundred things (plus one extra) that you can be doing, right now, to make yourself look sharper. You can thank us later.
1. Throw out or give away anything you haven't worn in over a year.
You get two "beloved old favorite" exemptions here, as well as formalwear. Ruthlessly pitch or donate the rest.
2. Get everything adjusted.
Well, okay, not everything. But most things: nice pants, shirts, and jackets should all go to the tailor for adjustments, unless they came custom-tailored already.
3. Spend more money on less pieces of clothing.
Quality lasts longer than quantity, and you look better in it.
4. Shop for a suit in person.
Even if you don't need one. Just get the experience of comparing jacket styles, fabrics, and cuts.
Make sure fit is your number one consideration.
5. There are more shoe colors than brown and black.
Colored leather and suede are fantastic shoe options. Get a little crazy with reds, blues, and grays. Don't worry about matching a belt to each one — a black belt with gray shoes or a brown one with oxblood red is fine.
6. Trouser cuffs should "break" on the tops of your shoes.
That means they rest very lightly on the leather itself. You shouldn't have a gap between your pants and your shoes.
7. Wear a pocket square.
Any time you're wearing a jacket. No exceptions.
8. Buy something in a pattern that occurs nowhere else in your wardrobe.
9. Next time you go to put on jeans, grab a pair of slacks or chinos instead.
Then make the rest of the outfit work with them.
10. Belts or suspenders — pick one.
Never both at the same time.
11. Wear a necktie when you don't have to.
Just for fun.
12. Watch any movie starring Cary Grant.
Now ask yourself: "What can I do to dress a little more like that?"
13. Gym shoes are for the gym.
Ditto athletic socks.
14. Wear a lightweight sweater under a sports jacket with some jeans.
Doesn't that look good?
15. Get a pair of colored trousers.
Something funky. Red, green, yellow, orange, whatever.
16. Go read a book on style.
Or a magazine. Or an article. Something about fashion. Old and out-of-date is okay, and even fun sometimes. Just get exposed to something new.
17. Match the color of your socks to the color of your trousers.
Most of the time. When you want to be daring, wear a bright, contrasting color instead.
18. Have a removable top layer.
In the dog days of summer, you can go with one shirt. The rest of the time, have at least two presentable layers on top. You never know when you'll want to loan a lady your jacket/shirt/whatever.
19. Invest in a really nice suitcase and day bag.
Your luggage is part of your style.
20. Shop with a friend.
Sales people are paid to sell you things whether they look good or not. Take a friend who'll tell you to your face when you look like an idiot.
21. Own a watch you can wear with a good business suit.
Handsome. Functional. Classic. It's amazing how such a small accessory can greatly enhance how you look and feel.
22. Understand contrast.
It will help you get the right amount in your outfits. If you don't know what that is, read an article like this one.
23. Own more shoes.
How many pairs do you own? Get some more. Vary the styles. Shoes are the most underrated tools in a guy's style arsenal.
24. Traditional light blue denim is a great color for jeans…
…if you're building houses or ranching cattle. Otherwise, get a dark indigo instead of light blue, or go with a different color entirely.
25. Take your measurements.
Write them down and tuck them in your underwear drawer or something. They always come in handy when you're shopping.
READ MORE AT THE ART OF MANLINESS

Save
Save
Save